The other day I stopped by my daughter's house to drop of a few things. As I left, she handed me a small, waxy blossom and said, "Smell it."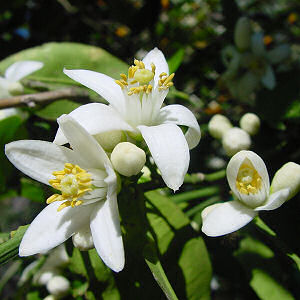 The effect of the smell was galvanic. I twitched and felt a sense of disassociation. It took me a minute to place it. At first I thought the flower was honeysuckle, but she corrected me, "It's orange blossom," and a door in my memory opened.
For the next few hours I could not stop holding that blossom under my nose, drawing in one of the aromas of my childhood.
We had several orange trees in our William Street backyard, as I grew up; and the countryside had many orange groves. (Odd, that we say "grove," rather than "orchard.") When the trees were in bloom, the smell was heavy and thick and sweet. On occasion we would drive to the Sunkist packing plant and buy a box of navel oranges (88's--the perfect size for a child to eat.)
The last time I traveled to Southern California I discovered that I had forgotten some of the smells. The orange groves are almost gone, but I found that several other forgotten scent memories were there.
Eucalyptus--this is a scent that is everywhere in my home with potpourri and flower arrangements.
Pepper Tree--the scent that I associate with Claremont, for some reason.
Oleander--this was a scent that I had almost totally forgotten until my trip. We had oleander on the border with our next-door neighbors. Somebody makes an
oleander perfume
.
Baked dust--this is the background scent for Southern California, comparable to the river smell of Portland, Oregon, or the salt air/blackberry/pine smell of my current home on Whidbey Island.