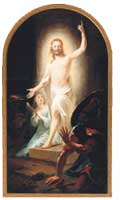 An interesting article in Slate about
the problem of the resurrection
. Not surprisingly, the Gnostics
hated
the idea of a bodily resurrection:
These differences over what Jesus' resurrection represents and discomfort with the whole idea are nothing new, however: Christians in the first few centuries also had difficulty embracing the idea of a real, bodily resurrection. Then, as now, resurrection was not the favored post-death existence—people much preferred to think that after dying, souls headed to some ethereal realm of light and tranquility. During the Roman period, many regarded the body as a pitiful thing at best and at worst a real drag upon the soul, even a kind of prison from which the soul was liberated at death. So, it's not surprising that there were Christians who simply found bodily resurrection stupid and repugnant. To make the idea palatable, they instead interpreted all references to Jesus' resurrection in strictly spiritual terms. Some thought of Jesus as having shed his earthly body in his death, assuming a purely spiritual state, and returning to his original status in the divine realm. In other cases, Jesus' earthly body and his death were even seen as illusory, the divine Christ merely appearing to have a normal body (rather like Clark Kent!).
Yet there seems to have been a virtuous consequence to the belief:
In Christianity's first few centuries, when believers often suffered severe persecution and even the threat of death, those who believed in Jesus' bodily resurrection found it particularly meaningful for their own circumstances. Jesus had been put to death in grisly fashion, but God had overturned Jesus' execution and, indeed, had given him a new and glorious body. So, they believed that they could face their own deaths as well as those of their loved ones in the firm hope that God would be faithful to them as well. They thought that they would share the same sort of immortal reaffirmation of their personal and bodily selves that Jesus had experienced. Elaine Pagels, a scholar of early Christianity, has argued that those Christians who regarded the body as unimportant, perhaps including "Gnostics," were less willing to face martyrdom for their faith and more willing to make gestures of acquiescence to the Romans—for example, by offering sacrifices to Roman gods—because they regarded actions done with their bodies as insignificant so long as in their hearts they held to their beliefs.

By contrast, Christians who believed in bodily resurrection seem to have regarded their own mortal coils as the crucial venues in which they were to live out their devotion to Christ. When these Christians were arraigned for their faith, they considered it genuine apostasy to give in to the gestures demanded by the Roman authorities. For them, inner devotion to Jesus had to be expressed in an outward faithfulness in their bodies—and they were ready to face martyrdom for their faith, encouraged by the prospect of bodily resurrection...